AWS To Alibaba Migration-Click2Cloud
09-Dec, 2019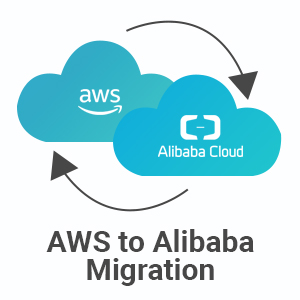 Cloud migration is the process of migrating applications, VMs, database either public, private or on-premise to cloud. Migrating your data from one cloud to another cloud sometimes leads you with messy steps. Say for example, AWS cloud provides the services which leads to consumption and increased billing. The best option here is to migrate it to Alibaba cloud.
Steps to Migrate from AWS to Alibaba:
User can easily migrate their data, applications, VMs from AWS to Alibaba in just few easy steps with the help of Click2Cloud's Clouds Brain migration feature. User do not even require spending their time wasting on migration processes. Clouds Brain provides users easy and adaptable steps to do migration.
The first step towards a successful data migration process is the evaluation of businesses basic needs as well as its future capacity and use.
To understand it lets take an example, say you have virtual machines running on AWS and you would like to calculate how much this infrastructure would cost in Alibaba. Doing this by accessing server by server review could take time.
We provide you with the tool that analyse your infrastructure and show you in 2 minutes how much money you can save by migrating from AWS to Alibaba cloud.
Here comes, Click2Cloud's Clouds Brain migration feature which helps you to migrate AWS data to Alibaba cloud with just few hassle-free steps.
Click2Cloud Migration Studio is a suite of tailored services for organizations across different verticals looking to migrate application, database, file and virtual/bare metal to cloud with minimal risk and near-zero downtime. User can migrate their workload in fully automated manner with the drag and drop feature using minimal clicks.
Migration studio as SAAS offering is one stop shop for all migration needs providing seamless experience with cost effective and reliable tool kit. Technical and feasibility evaluation, choice of cloud recommendation through extensive cloud comparison report is an add-on value with Migration Studio offering.
Fig: Migration from AWS to Alibaba cloud
Benefits of Migrating from AWS to Alibaba Cloud:
There are obvious and highly touted benefits such as scalability, reliability, lower costs, improved analytics and disaster recovery.
Migrates workload from or between any combination of physical, virtual and cloud-based platforms using drag and drop functionality.
Reduce operational costs.
Easy-to-use console.
Scalable continuous replication with minimal performance or bandwidth impact.
Offers freedom from lock-in to any specific hypervisor, cloud vendor or hardware.
Conclusion!
With the accuracy and precision of Click2Cloud's Clouds Brain analytics, you can ensure clients get to their optimal cloud environment without spending additional time on costly trial-and-error attempts at migration. This could save total cost of ownership over 62% by migrating your infrastructure from AWS to Alibaba cloud.