Click2Cloud Docker Container & Kubernetes based OpenShift 3 Origin (V 1.1.6) Tool for Visual Studio 2015
2016-04-19 : BY CLICK2CLOUD-BLOG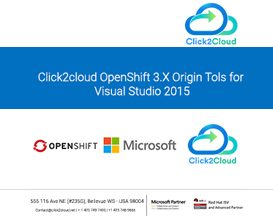 Step 1: Click2Cloud's Docker Container and Kubernetes based Visual Studio Extension for Red Hat OpenShift -1
Step 2: Click2Cloud's Docker Container and Kubernetes based Visual Studio Extension for Red Hat OpenShift -2
Step 3: Click2Cloud's Docker Container and Kubernetes based Visual Studio Extension for Red Hat OpenShift -3
Step 4: Click2Cloud's Docker Container and Kubernetes based Visual Studio Extension for Red Hat OpenShift -4
Step 5: Click2Cloud's Docker Container and Kubernetes based Visual Studio Extension for Red Hat OpenShift -5
Step 6: Click2Cloud's Docker Container and Kubernetes based Visual Studio Extension for Red Hat OpenShift -6
Click2Cloud's Docker Container & Kubernetes based Visual Studio 2015 Extension for Red Hat OpenShift 3 Origin (V 1.1.6)
Click2Cloud Visual Studio 2015 Tool; bring Docker and Kubernetes based containerized .Net application to OpenShift 3 Origin. Our DevOps solution, allows developers to build, manage and deploy containerized .NET and lot more other applications straight from Visual Studio IDE to Red Hat's OpenShift 3 Origin Cloud Platform.
This is pre-release version of OpenShift 3 Tool for Visual Studio 2015.
For more details, you can mail us at contact@click2cloud.net or contact at +1 (425) 749-7495 and +1 (425) 748-9666. You can also visit our website www.click2cloud.com to get insight of tools and FAQs.
[youtube https://www.youtube.com/watch?v=0F6uM7ysMZM?list=PLWgCcDWQfFluLf2w8JTKkSgDXtRpQKwQA]
Software Pre-requisites
Following are the software pre-requisite to install the Click2Cloud OpenShift 3 Origin Tool for Visual Studio 2015 tool and manage your application on OpenShift 3 Origin.
Please Note: You will need the Vagrant, Virtual Box and Vagrant File for creating OpenShift 3 Origin environment on local machine. You can find the detailed information to download and install these software's at https://www.openshift.org/vm/
Hardware Pre-requisite
Processor: Intel Core i3 (or above for better performance)
RAM: Minimum 8 GB (or above for better performance)
Hard disk: 10 GB Minimum
Additional Resources
You can refer the getting started documentation accessible from New OpenShift Application screen.
The getting started document provide user with step-by-step approach to install and use the tool. It covers the following section;
Pre-Requisites Software's required to install the plugin
Step-by-step details on installing GitHub Extension for Visual Studio 2015
Guidelines to Install Git for Windows and OpenShift 3 CLI
Procedure to download OpenShift Tool for Visual Studio 2015
How to Install and Activate OpenShift Tool for Visual Studio
Create Your First Application on OpenShift and Manging Projects
Deploying Application Changes and Build
Log Streaming and Stream Application Logs
Stream Build Logs
Open Terminals and Port-forwarding
The Getting started document is also available on Click2Cloud website, and can be directly accessed from here.
Guideline to enable .NET in OpenShift 3 Environment
Follow instructions at https://github.com/Click2Cloud/DotNetOnOpenShift3 to enable .NET on OpenShift 3 Environment.
Launching Click2Cloud OpenShift 3 Origin Tool for Visual Studio 2015
Once installed, system will display a success message and you can access the Click2Cloud Extension from menus of Visual Studio Console.
Features
Support to login to OpenShift 3 using basic and oauth protocol
Create and manage projects in OpenShift 3
Create new OpenShift application from server template
Support to create new OpenShift application from custom template
Support to open existing application from OpenShift 3 and load in Visual Studio 2015
View WebHook URL for newly created application as well as retrieve it for already running application
View Pod and build Logs from OpenShift Explorer
Start Build from OpenShift Explorer
Support to host application on https
Port Forwarding from OpenShift Explorer
Launch Terminal option from OpenShift Explorer
JSON Editor Integration with OpenShift Explorer
Known Issues
Auto refresh in OpenShift Explorer not working in few scenarios
OpenShift Explorer design issue for different themes
In some scenarios Live streaming of Build Logs is not working
Contacts Us