How Cloud Intel helps in Boosting your Business Performance
07-May, 2021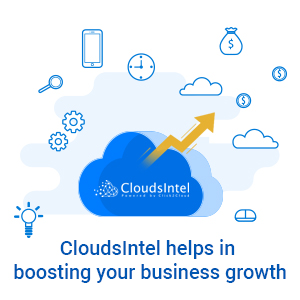 Often in your business, you may face challenges regarding analysis, discovery and assessment of IT inventory for migrating your workloads from on-premise to cloud or from one cloud to another. To help you resolve this issue, Click2Cloud's Cloud Intel platform enables you to decide if you want to move your workloads to cloud with the help of detailed Business Value Assessment reports.
Cloud Intel is a platform that helps you discover your IT inventory, assess that inventory, collects the intel for different categories manually and automatically to take the decision on moving your workloads to cloud.
In this article, you'll learn about the features and benefits of Cloud Intel.
Features of Cloud Intel
| | |
| --- | --- |
| Feature | Description |
| Discovery | Allows you to discover your organization's data/inventory to make decisions on utilization of SaaS, IaaS and PaaS solutions |
| Assessment | Helps in assessing your server, applications, and database for generating a report that provides detailed analysis of your existing infrastructure on-premise or on different cloud platforms |
| Cloud Compare | Compares between multiple clouds based on compute, storage, and network cost to provide a crisp graphical visualization for decision making on cloud migration |
| TCO & ROI Reports | Performs Business Value Assessment on collected information and generates Total Cost of Ownership (TCO) & ROI reports that help you make an informed decision in favour of your organization's investments |
| Migration Roadmap and Timeline | Based on TCO, Cloud comparison and assessment reports, Cloud Intel provides you a migration plan with tentative timelines |
| Orchestration | It automatically deploys a list of inventories on respective destination clouds with the couple of scripts based on TCO and assessment reports |
There might be different discovery programs that you use to generate an assessment report on cloud readiness. The discovery and assessment is first performed on virtual machines, physical servers, applications and databases. Then, a detailed report for each category is generated that focuses on the following factors:
List of all the virtual machines and physical machines
Operating system of each machine
List of the configuration parameters of each machine such as CPU, RAM, Storage
Identification of the utilization parameters like CPU utilization, disk utilization, Memory utilization, Network Input/Output, etc.
Based on the above parameters, Cloud Intel generates the readiness reports that helps you identify the readiness of your machine to move to cloud. The readiness reports are generated of one cloud platform in comparison with others. Cloud Intel also provides utilization parameters that give right sizing information for each machine and thus, makes it an optimized cloud solution which also saves on users' expenditure.
Benefits of Cloud Intel
Enables you to quickly decide whether to move workloads to cloud with the help of visual reports of IT inventory
Tracks current state of the system and provides suggestions on the available services on cloud
With the business decision to move to cloud, you can make the correct judgment of extracting the benefits of cloud computing such as Cost Savings, Security, Flexibility, Scalability and Speed to market. Thus, passing on these benefits to your growing customers and simultaneously enhancing your business.
In case the reports show you a lesser ROI for moving to cloud, you can optimally utilize your on-premise resources, save the cloud costs and divert your money in building better products and services.
Summary!
Cloud Intel is your support system in boosting your business growth to help you get correct and detailed readiness reports and security assurance to move your workloads to cloud. We recommend you use this platform to save your time in making the correct decisions on moving workloads onto cloud and make your business grow.