Oracle to PostgreSQL Migration Assessment - Cloud Intel
26-Aug, 2022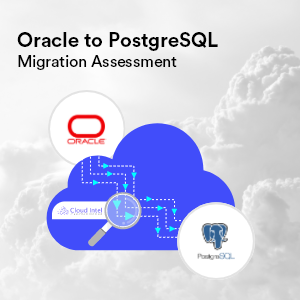 Enterprises are increasingly making the move from Oracle databases to one of the world's most advanced open-source databases, PostgreSQL.
Why are enterprises migrating from Oracle to PostgreSQL? Isn't this question striking in everyone's mind?
Oracle databases present many challenges to modern customers, such as the system cost for the Oracle database is high because of the heavy licensing cost, inconsistent customer support, flexibility, customizability, and audit risk.
PostgreSQL is an open-source database carried out by volunteer developers worldwide for free. It has stronger API compatibility, cheaper support and more robust scalability and flexibility. It is easy to use and can be customized for your operations with a low Total Cost of Ownership.

Why Oracle to PostgreSQL Migration Assessment?
You may be aware that migrating from Oracle to PostgreSQL can be a very time-consuming and costly process. Hence for enterprises, it is crucial to understand which parts need to be migrated, to check whether historical data is required or not, to analyze the application and database objects to locate incompatibilities between the databases, to assess the application code, and to estimate the migration time and cost.
Migration Assessment provides estimates of the difficulty of migrating from Oracle to PostgreSQL based on an extensive analysis.

Discover Why You Should Use Click2Cloud's Assessment Platform Cloud Intel for Oracle to PostgreSQL Migration Assessment
Click2Cloud's Cloud Intel helps enterprises plan the migration, discover and assess data and applications to estimate how easy or difficult it will be to migrate to PostgreSQL from Oracle.
Cloud Intel provides comprehensive graphical TCO analysis, assesses on-premises SQL server instances, and suggests fixes after detection. It assesses the compatibility of source-and target-databases as well as application code.
To address the ever-growing list of challenges and requirements for Oracle to PostgreSQL migration, Click2Cloud offers a comprehensive migration solution ranging from identifying business goals to implementing specific action items, such as planning, solution assessment, workshop on cloud adoption, landing zone, and industry-specific solutions.

Conclusion
To facilitate the switch from Oracle to PostgreSQL, analyze, and assess the migration process with the help of Click2Cloud.