Discover your IT inventory with Cloud Intel
24-Feb, 2022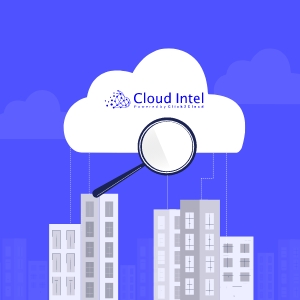 With the traditional on-prem environment, there are many challenges faced by organizations. Few demerits involve overspendings on infrastructure, it lacks details needed to outsource/negotiate contracts. Additionally, there is no single point of truth for the inventory. Unidentified potential risks is another issue. It is also difficult to track MTTR/DR sites. One of the major issues is untraceable statistics.
The on-prem environment earlier needed to adopt/acquire various tools and licenses for data collection. It was difficult to select the cloud for migration and its plan. This is when Cloud Intel comes to rescue your problem.
Cloud Intel is an assessment tool for discovering your IT inventory, assessing it, and it helps in decision-making for the movement of your workloads to the cloud. Cloud discovery helps enterprises comprehensively identify all cloud instances, applications, databases, containers, and related services running at a given instance of time. Discovery provides a single optimized view of various cloud services and cloud platforms within an organization. Cloud Intel provides data-driven insights and vital steps required to successfully adopt the cloud.

Fig: Steps for successful cloud adoption
Assess and discover your current IT infrastructure on-prem and over the cloud.
Identify your application and operational readiness.
Determine BOM based on industry-specific solutions.
Create basic dependency maps of your applications.
Give the migration plan towards the target cloud along with recommendations.
Determine Timeline and Budget.
Decision-making dashboard with TCO / ROI details for source and destination.
The journey to the cloud begins with the Discovery and Assessment phase, and an in-depth understanding of your organization and the technical realities you have in place. Decisions need to be made about utilizing the Infrastructure as a Service (IaaS), Platform as a Service (PaaS), and Container as a Service (CaaS) IT ecosystem.
Benefits of using Cloud Intel discovery tool are:
Decides movement of workloads over the cloud.
Generates assessment report.
Reduces user expenditure.
Provides utilization parameters.
Assessment can be done in either of the two ways, the first being performance-based assessment that makes recommendations based on collected performance data and the second being, as-is on-premises assessments that don't use performance data to make recommendations.
Conclusion:
Your cloud migration journey begins with Cloud Intel by discovering your organization's data/inventory to make decisions on the utilization of IaaS, PaaS, and CaaS solutions. It helps answer queries like what to move, why to move, where to move, what to do first, and how to make it happen. The type of facilities that come with Cloud Intel is Apps and Infra, Mainframe, SAP on Cloud, Datacenter, and Cloud Security assessment. To know more about data discovery, rely on Cloud Intel and discover your first IT inventory with Cloud Intel today itself!