col 1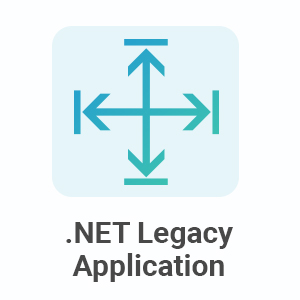 .NET Legacy App Modernization
2020-01-13 : By Click2Cloud®
Click2Cloud OpenShift Toolkit is an application platform that allows users to build, test, deploy, and run their applications with automatic scaling. It provides a fully-fledged environment for development projects and aligns with the standard workflows. Click2Cloud OpenShift is developed mainly for .NET Developers to support an application lifecycle and seamless deployment in Visual Studio Integrated Development Environment (IDE).
Read More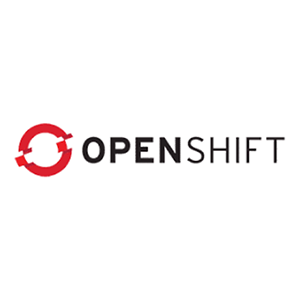 CI/CD with OpenShift
2019-05-13 : By Click2Cloud®
Releasing software frequently to users is usually time-consuming and painful process. Continuous Integration and Continuous Delivery can help organizations to become more agile by automating and streamlining steps involved in going from an idea, change in the market and business requirement to the delivered product to the customer.
Read More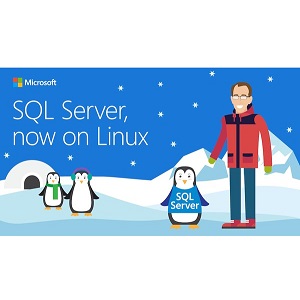 .NET Core & SQL Server Preview on Linux Containers
2016-11-25 : By Click2Cloud®
Microsoft .Net on Linux: Last year Microsoft has brought some of the core features of its .NET platform — which has traditionally been Windows-only — to Linux and Mac. The company has announced its full .NET Core runtime for Linux and Mac OS. Now company is planning to bring SQL Server support on Linux which is still under private preview and expected to launch sometime next year. The release of .NET Core for platforms other than Windows is to fulfill the aims to meet developers where they are — instead of necessarily making them use Windows. The.NET Core and SQL Server are clearly part of this move. Microsoft want to use .NET and SQL on cross-platform in order to build and leverage a bigger ecosystem for it.
Read More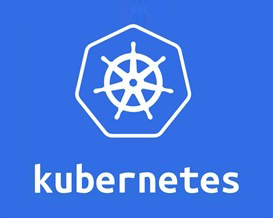 Kubernetes role for Orchestration in Click2Cloud's Extension for Visual Studio 2015
2016-05-31 : By Click2Cloud®
Kubernetes is an open-source platform for automating deployment, scaling, and operations of application containers across clusters of hosts. Kubernetes is the key component for managing and ensuring the reliability of application deployments in OpenShift 3.
Read More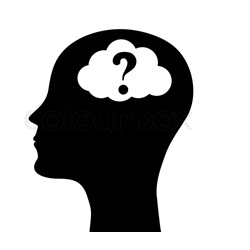 Are you still in confusion in choosing the correct PaaS for your enterprise cloud infrastructure?
2016-05-24 : By Click2Cloud®
OpenShift 2 is a Red Hat's open source, auto scaling, Platform as a Service (PaaS). It is based on an architecture that involves; Linux Broker, Linux Node and Windows Node. It uses gears and cartridges to create applications and supports one-click deployment for various applications based on frameworks as; rails, JavaEE, Django etc… and languages like; Java, PHP, ruby etc.
Read More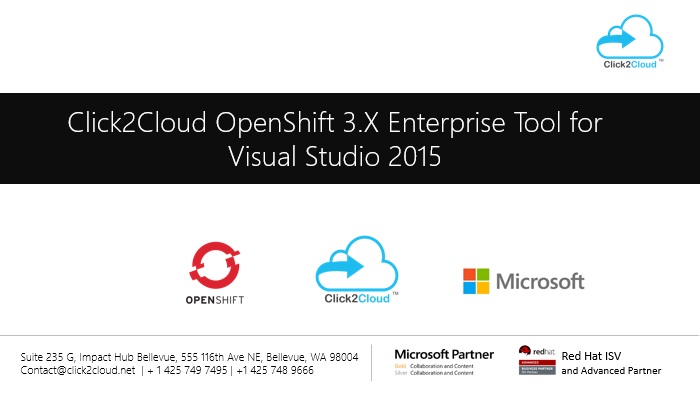 Click2Cloud's Docker Container & Kubernetes based Visual Studio Extension for Red Hat OpenShift
2016-04-14 : By Click2Cloud®
Our Visual Studio Extension allows developers to Build, Manage and Deploy containerized .Net and lot more other applications straight from IDE to OpenShift 3.0 cloud platform on a cloud of your choice. Bring on the benefits of Docker and Kubernetes offered by OpenShift. The power of "AND" eliminates the question to choose Microsoft "OR" Red Hat. Our DevOps solution gives you the choice of a truly heterogeneous environment where Red Hat and Microsoft applications work harmoniously in Redhat OpenShift 3.0 and Redhat Openshift 2.0.
Read More